Congratulations Walter!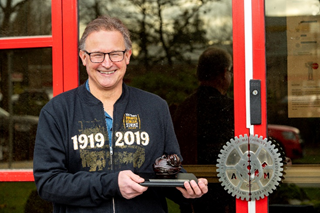 Gerlach honoured by BC Labour Movement
Burnaby, BC – The 27th Annual United Way of the Lower Mainland Labour Appreciation Night awards were presented in a virtual event on Thursday, December 3. Walter Gerlach, a 40-year member of the Machinists' Union and Directing Business Representative at IAM Northwest District 250 was honoured together with four other local leaders. A highlight of the labour movement calendar, the event was moved to an online format due to the COVID-19 pandemic and featured video clips and a panel discussion with the recipients moderated by UWLM CLC Labour Participation Director Neal Adolph.
"The New Westminster & District Labour Council Labour Community Service Award is presented to an extraordinary leader with both deep ties to the labour movement and a dedication to making life better for everyone in our society," said NWDLC Secretary-Treasurer Janet Andrews, "This year we recognize Walter Gerlach, an activist whose staunch labour values, inclusive and supportive leadership style, political activism and deep connection to family and community truly epitomize the Machinists' motto Justice on the Job and Service to the Community."
Joining Walter this year were UWLM Joe Morris Labour Community ServiceAward co-recipients Sussanne Skidmore, Secretary-Treasurer at BC Federation of Labour and Nikki Hill, Principal at Earnscliffe Strategy Group; Vancouver & District Labour Council Syd Thompson Community Service Award recipient Adrienne Smith a Social Justice Lawyer at Adrienne Smith Law and Fraser Valley Labour Council Brian Harder Labour Leadership Award recipient Bruce Temple, Union Representative at UFCW 1518.
"It is an absolute honour to be nominated by my peers for this recognition," said Gerlach. "I acknowledge in being recognized there are many activists that influence and contribute to our collective successes. Without the support of my family and friends, as well as the sacrifice of family time, for which I am grateful and thankful, I would not have been able to devote time to the work of the Labour movement and Community service."
Gerlach is a long-time delegate and former Executive Board member of the NWDLC. He also currently sits on the Executive Council of the BC Federation of Labour and as one of the Labour representatives on the United Way of the Lower Mainland Board of Directors.
Article Credit: Janet Andrews, Secretary-Treasurer, NWDLC